Mediation and Conflict Resolution Manuals
كتيبات تدريبية حول الوساطة وحل النزاعات والوساطة الطلابية بتمويل ودعم من لجنة المانونايت المركزية
Training manual on mediation, conflict resolution and student mediation, funded and supported by the Mennonite Central Committee (MCC)
Sulha
Sulha is a traditional form of dispute resolution used widely in Palestine and other countries in the region. Wi'am has compiled a series of interviews and short essays describing the Sulha approach and explaining its use. You can learn more on our Sulha page.
This book is available for sale on Amazon.
Your Stories are My Stories: A Palestinian Oral History Project
This oral history project is not just a research effort, it is also a dialogue between the generations. During the Al Aqsa Intifada, the editors took a collection of several students' oral histories to compile into book format. These stories were told at a very difficult time in the students' lives, with some of the stories being told during shellings and electricity cut-offs. These special settings added to conversations that are intimate, personal, and at times, highly charged. As the students relayed their family history and then their own, both interviewers and participants came to realize how the students' stories were part of an unbroken chain of Palestinian life and history. The stories are like a gift from one generation to the next. The interviews, although ostensibly about the past, are as much about giving meaning to a terrifying present and uncertain future.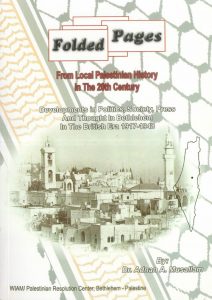 Folded Pages: From Local Palestinian History in the 20th Century, Developments in Politics, Society, Press and Thought in Bethlehem
The aim of this bilingual study is to keep alive the story of a vital intellectual, political, and social climate that existed in Bethlehem, Palestine in the first half of the 20th century. Musallam grounds his research in an exploration of the cultural environment and social developments of early 20th century Palestine before discussing the content found in newspapers and other publications from the time. With this research, Musallam sketches the various political and ideological tendencies of Palestinian people who resisted British occupation and Zionist colonization from the years 1917 to 1948.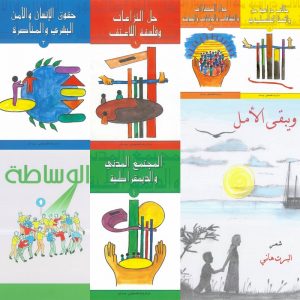 Peer Mediation Manuals
Wi'am produces and disseminates training manuals on peer mediation and other interrelated fields, focusing on case studies and experiential learning. We have six primary manuals that take an interdisciplinary approach, including themes of non-violence and conflict transformation, dialogue amongst religions and civilizations, globalization, human rights and security, advocacy, civil society and democracy, peer mediation and case studies taken from school contexts.
Wi'am Cards
Every year, we partner with a talented local artist to create a Christmas card that is unique to the experience of Palestinians. These cards symbolize a desire for peace, a recognition of the realities of protracted conflict, and hope for a better and more just world. We have these cards available in our gift shop, and we are able to ship bulk orders. If you would like to bulk purchase some of the cards shown on the right, please contact us at hope@alaslah.org.
Brochure about Wi'am
A PDF format of our brochure, with information about our Center, Objectives, Programming, and even some survival Arabic.
Brochure on Educational and Cultural Tours
Learn more about our Educational and Cultural Tours program, and contact us at hope@alaslah.org if you would like to schedule a tour.