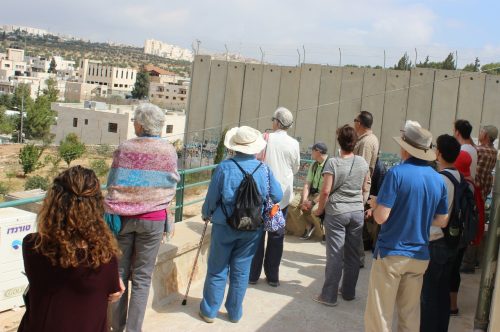 Wi'am: The Palestinian Conflict Transformation Center is dedicated to building cordial relationships between Palestinians, and with the international community. We encourage and appreciate the efforts of every individual to do their part in working for justice and peace in the Holy Land:
Advocacy
Wi'am works to educate individuals and groups about the realities of conflict and the everyday plight of Palestinians, and those individuals have the opportunity to share our voices with the world. We ask you to have the courage to advocate for the rights of an oppressed and occupied people, even when it is inconvenient and seems hopeless. Sir Edmund Burke once wrote, "The only thing necessary for the triumph of evil is for good men to do nothing."
Even if you cannot visit us and the people of Palestine, please share our stories so that together we may build a lasting and just peace. Visit our Facebook, Instagram, or YouTube to share what we are writing, and do not underestimate the power of everyday conversations to change people's hearts and minds.
Volunteer or Intern
Over the years, we have proudly hosted hundreds of international volunteers and interns who have greatly contributed to our work for peace and justice. If you would like to volunteer or are interested in an internship at Wi'am, please review in full our website, and read our Volunteer or Internship Experience Description for more details.
Visit Us
If you are visiting Bethlehem, we hope you will stop by our community center and share a cup of coffee or tea with us. We also offer guided tours of the Holy Land, and can arrange housing, Arabic classes, or other immersion experiences if you would like to stay longer in Bethlehem. Learn more on our Come & See page.
Financial Support
As Wi'am does not charge for its services, we rely on the donations of others. We are in need of financial support for all of our major projects and any future projects we wish to implement. Any contribution is always greatly appreciated. Visit our Donate page to learn more.
Prayer
At the core, peacemaking in human relationships is a spiritual effort. We greatly appreciate your active prayer support for justice and peace whether with your families, during your own personal reflection time, or in your worshiping communities. If you want to host a prayer service or make connections with local religious groups, please email us at hope@alaslah.org.