The seasons are changing, and Wi'am has been visited by a group of volunteers from a Methodist Church in Oklahoma, USA. The extra hands, together with our current group of international interns, spent the week cleaning up our grounds and gardens, just in time for the Fall. Our outside spaces are now free of weeds and ready to be enjoyed.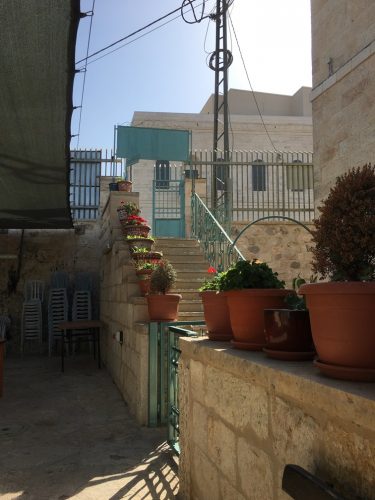 Apart from the clearing of weeds and trimming of trees, the week has been filled with laughter, conversations, and many cups of tea and coffee. We wrapped up the hard work with a meeting with the full group of 17 volunteers from the Methodist Church, a conversation that not only allowed the group to process their time here but also renewed our sense of hope at Wi'am.
We would like to thank our volunteers for their help in our gardens: sometimes it is the small acts of kindness and ones involving working in the dirt that can make a big difference, and allow us to continue to promote peace in Palestine. We would also like to extend our welcome to anyone who wants to come help us with any big or small project. Whether you have a few hours free or a few days, guests are always welcome, either for volunteering or just for a quick visit and a cup of tea or coffee.
If you are interested in visiting Wi'am, check out our Come & See page. If you would like to volunteer your time with us, please email us at hope@alaslah.org.
Greetings from Wi'am